I saw this tag on Rebecca's blog,
Nails Etc
and decided to do it too!
Three names I go by:
1. Tierney
2. Tier
3. Pooter (Only my baby brother is allowed to call me that)
Three jobs I have had:
1. I've
2. Had
3. None
Three places I have lived:
1. Tacoma, WA (Where I was born)
The Tacoma Dome! When my sisters and I were little we called it the Catoma Dome.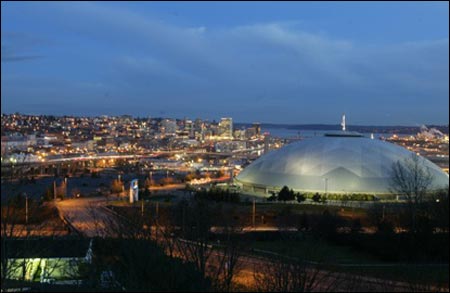 2. Duvall, WA
3. Bellingham, WA
This is a picture I took while I was on race committee one night over the summer. A few of the boats racing on Bellingham Bay.
Three favorite drinks:
1. Diet Coke
2. Strawberry lemonade smoothies
3. Monsters
Three TV shows I watch:
1. Bones
2. NCIS
3. Human Target
Three places I have been:
1. Disneyland<3
2. Sun Peaks
3. Yachats, OR
Three places I would like to visit:
1. Ireland
2. Hawaii
3. Florida (I really want to go there and visit my uncle!)
Three people who text me regularly:
1. Kathy! My twin buddy [:
2. Brittany, sort of.
3. Dad, sometimes.
Three favorite old TV shows:
1. Blackadder
2. Bonanza
3. Friends (It isn't exactly old but whatever)
Three favorite dishes:
1. Steak, mashed potatoes and broccoli
2. Lasagna
3. The special hot dog uncle Neil makes for me when the rest of them eat something I don't like.
Three makeup/beauty products I cannot live without:
1. Nail polish.
2. No
3. More (I don't really use anything special and I don't wear makeup)
Three things I'm looking forward to:
1. Going to Disneyland again!
2. Graduating high school
3. Summer - I miss being out on the boat!
I tag anybody who wants to do this too!
-Tier
[: