Good morning! Wow. I really have no idea what to talk about today. I guess I'll talk about my favorite snack! Haha.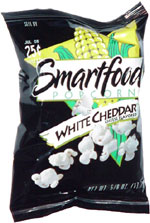 Smartfood. Yum yum yum. How many of you have tried smartfood before? It's addicting. I eat a lot of it. Well, not lately, but I used to eat it all the time. My aunties and uncles bring me bags of it as presents sometimes. They're awesome like that!
Well, I don't have much else to say. Polish post this afternoon.
-Tier